Giants in medicine: Dr. Thomas Starzl (father of liver transplant)
and Dr. Chao-Long Chen 陳肇隆醫師 (father of liver transplant in Asia)

Being an internist, I rarely wrote about surgery as I am not comfortable in writing something I am not
familiar with. This is probably why Dr. Thomas Starzl was never mentioned in this blog.
This is to show how great this transplant pioneer is from the perspective of an internist, not
encompassing the breadth and depth of his contribution to humanity in general and medicine in
particular. The transplant surgery stimulates and propels the advance in almost every field of
medicine.
The development of the University of Pittsburgh Medical School can be safely said to be in two
stages: The period before and the period after Dr. Thomas Starzl.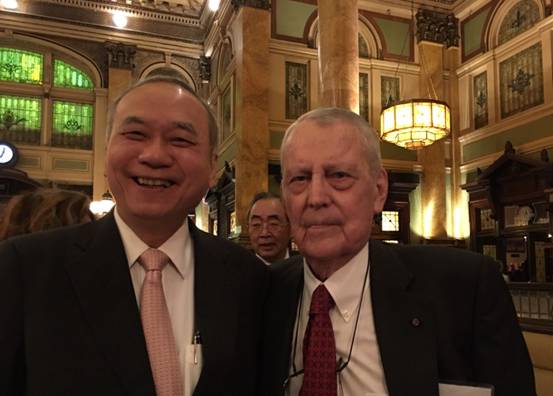 Dr. Thomas Starzl and Dr. Chao-Long Chen: The mentor and the protege.

"One of the great biomedical scientists of the century"
Although Dr. Starzl is often called a great transplant surgeon, the father of liver transplantation, but
Dr. Francis Moore (the former President of American College of Surgeons, sometime a fierce
competitor/rival in the transplant profession) said of Dr. Starzl, "he is much more than that. He is one
of the great biomedical scientists of the century. He emerged virtually to stand alone in the breadth of
his study, and in the depth of his scientific penetration." If one reads some of his articles in the New
England Journal of Medicines and doesn't know who he is, one would think he must be an expert in
immunology, and he is, indeed.
Dr. Starzl left Northwestern University Medical School for University of Colorado Health Science Center
in 1962 with a determination to pursue liver transplant, at which time he began to test the use of
Imuran (azathioprine) with or without Prednisone for rejection on animal transplants.
He made a strategic decision to concentrate on animal kidney transplant as the liver transplant in dog
was technically too difficult then, he wouldn't attempt liver transplant in dog without succeeding first
with kidney transplant with immunosuppressive therapy with Imuran and Prednisone.

"Let a genie out of the bottle"—establishing a standard protocol of immunosuppressive therapy
A group of about 25 transplant experts (among them Dr. Joseph Murray who performed the first
kidney transplant between identical twins in 1954, for which he was awarded a Nobel Prize in Medicine
in 1990; Dr. Murray worked with Dr. Francis Moore at Peter Bent Brigham Hospital then) gathered in
a "National Research Council" conference in 1963; it turned out to be a watershed event.
It was a very gloomy report, the kidney transplant outcome was terrible; among about 200 recipients,
only 10% lived beyond 3 months and only 6 lived a year. Even Dr. Murray had only one patient
survived beyond 6 months with Imuran. The experts felt the kidney transplant was not justified and
about to call it quit. The gloom mood of the conference was then dispelled by Dr. Starzl's
presentation reporting an 80% success of his 30 patients, which is more surviving patients than all the
world experts combined, leading to a transplant surgeon from Harvard to say "it is like letting a genie
out of the bottle."
Many of the conference attendees followed him after the conference to Denver to learn his method
and his Imuran-Prednisone regimen became the standard immunosuppressive protocol for the next
two decades.
I cannot emphasized enough that though a skilled and innovative surgeon he is, his other nonsurgical
contribution to this field is enormous and beyond measure. He is a transplant surgeon with a
knife and a mind. It is less well known that "the father of liver transplant" (a "new kid in the block"
then) also single-handedly saved the fate of kidney transplantation.

Dr. Thomas Starzl: a man of conviction, of courage and of perseverance
The story of Dr. Starzl's liver transplants in the early days (1963 to 1967) was not rosy. His first
patient died on the operating table; the way he described the case in his autobiography, The puzzled
People: Memoirs of a Transplant Surgeon, was touching. The next four patients all died of either
hemorrhage or infection. He had self-imposed moratorium of three years, during which he refined the
surgical technique on animal studies. The break came in 1967 (or 1968) when he had the first
successful liver transplant. He had many successes during Imuran era (1967 to 1979), but the
success rate was only 50%. Losing the recipients to death, Dr. Starzl said it is "a tough pill to keep
swallowing."

Starzl rescued Cyclosporine and Tacrolimus (Prograf)
When Cyclosporine came along in 1979, about the time he moved to University of Pittsburgh, it
greatly reduced the rejection and improved the outcome. But Sandoz has made a decision to take it
off the market because of its great toxicity. Dr. Starzl demonstrated that it Cyclosporine can be safely
used at a reduced dosage in combination with Prednisone. The similar story happened in Tacrolimus
(Prograf); he endured all sorts of criticisms and strain. It is through his assiduous perseverance (and
that of Dr. Roy Calne--see below) that led to FDA approval of Cyclosporine in 1983 and Tacrolimus in
1994.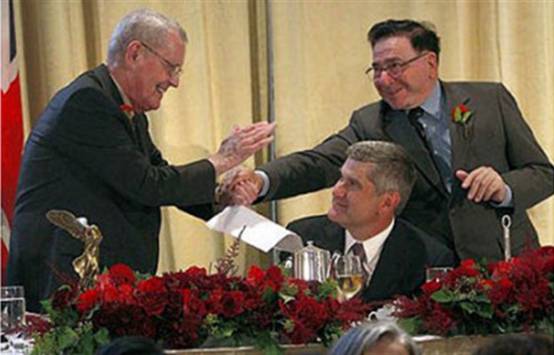 Dr. Starzl and Dr. Calne shaking hands: Lasker Award.

Dr. Thomas Starzl and Sir. Roy Calne: The trans-Atlantic alliance
Like Dr. Starzl, Dr. Roy Calne of Cambridge University in England is the father of liver transplant in
Europe. They both began with kidney transplant. They both pursued and perfected the anti-rejection
therapy relentlessly. Dr. Starzl spent his sabbatical in London in the summer of 1975, during which he
went to see Dr. Calne in Cambridge. In his The Puzzle People, Dr. Starzl wrote, ". . . the fate of liver
transplantation would depend upon an unspoken trans-Atlantic alliance between Cambridge and
Denver without which further efforts would not have continued, much less succeeded, on either side
of the ocean. These mutually supportive moral and scientific bonds pulled liver transplantation into
the mainstream of medical practice but not until the decade was finished. By then, Calne had been
knighted."
It is fitting that Dr. Starzl and Dr. Calne shared the prestigious Lasker awards (a Nobel precursor or
America Nobel) in 2012.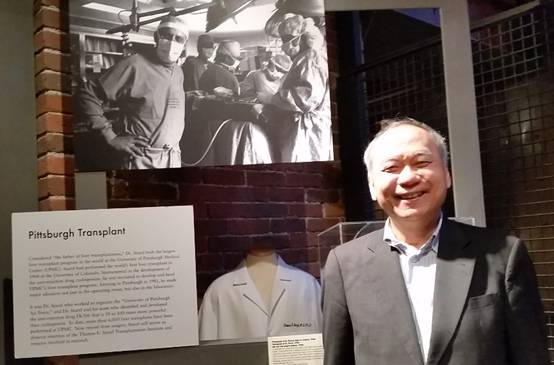 Dr. Chao-Long Chen at "Dr. Starzl's exhibit" in Senator John Heinz History Center.

Quit surgery, but never retired from research
Dr. Starzl not only established a new field of liver transplantation, but also trained numerous surgeons
from all over the world. After the coronary artery bypass surgery he stopped doing transplant surgery
in 1990 (or 1991) at age of 65, but continued to very actively pursue and supervise the research.
I recall reading an article of "Graft and Host, Together Forever" in Scientific American (2007), which
was about the concept of what Dr. Starzl called microchimerism that explains why patients' bodies
were able to accept foreign tissues. He theorized that cells from donated organ infiltrate tissues and
organs throughout the recipient's body, causing it to begin accepting the new tissue as its own.
The sacrifice and peril of a dedicated transplant surgeon
In his The Puzzle People, Dr. Starzl wrote about his divorce from his first wife, Barbara, "The marriage
had lasted for almost twenty-two years before Barbara's forbearance ran out. Her rival, Mistress
Surgery, had been too strong."
In his autobiography, In Search of Memory, Dr. Eric Kandel (the 2000 Nobel laureate in Medicine for
his elucidation of the molecular biology of memory) wrote that in one of the family gatherings, he
apologetically said he probably could only get a grade B as a father due to the demand and devotion
of his research work, his daughter said, "dad, that is grade inflation!"
When the children were out of school in the summer of 1975, Dr. Starzl brought the whole family to
London for his sabbatical. He must have struggled mightily to balance his family life and the demand
of his work. He wrote "the second priority for the sabbatical was to review with Porter the reasons for
success or failure in each of the first ninety-three cases of liver transplantation in Colorado." He
bicycled with his son from London to Cambridge to meet with Dr. Calne.
In his autobiography, For the Love of Enzymes, Dr. Arthur Kornberg (The Nobel laureate for his
discovery of DNA polymerase) wrote that when he went to NIH, he stopped by NIH first before going to
his new home, just to say hello to his future colleagues. Once inside NIH he forgot about his wife and
children who ended up waiting outside in the car for the whole afternoon.

桃李滿天下

What prompted me to write this post is the occasion of the 90 birthday party for Dr. Starzl, which was
held at the UPMC Club Lounge at Heinz Field in the evening of March 12. I do not have the details of
the party at the time of this writing, but I know there are more than 200 transplant surgeons from all
over the world "coming home" for the celebration; Dr. Chao-Long Chen (陳肇隆醫師) from Taiwan is
one of them. The fellow reunion took place in the evening of March 11.
In the fellow reunion (March 11) Dr. Starzl expressed his gratification and pride for the
accomplishment of Dr. Chao-Long Chen. Dr. Starzl has followed the work of all the surgeons
he trained over the years.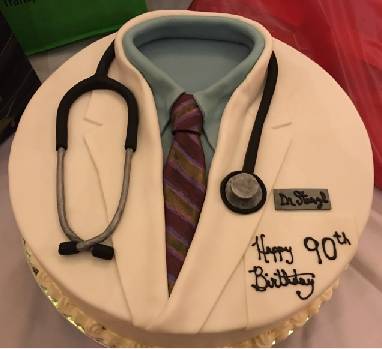 1926 Chateau Grand Corbin Despagne 謝師酒
Dr. Chen presented a very precious and thoughtful 90 birthday gift to Dr. Starzl: an extremely rare
1926 Chateau Grand Corbin Despagne. The accompanied beautifully written greeting card
summarizes what this giant and legend in medicine is all about and why this celebration is "a special
and momentous occasion. There is an air of jubilation and a galaxy of experts from transplantation
field has descended to witness this gala event."
Some years ago we gave 100 one-dollar coins for the 100 birthday gift to our neighbor, Dr.
Greenlee, a Mayo Clinic trained surgeon, with a card, saying "How much do we love thee, Let us
count the ways/coins . . ."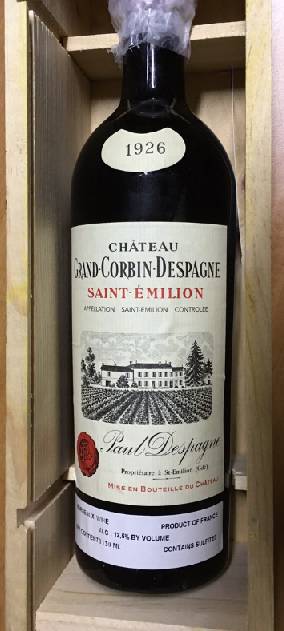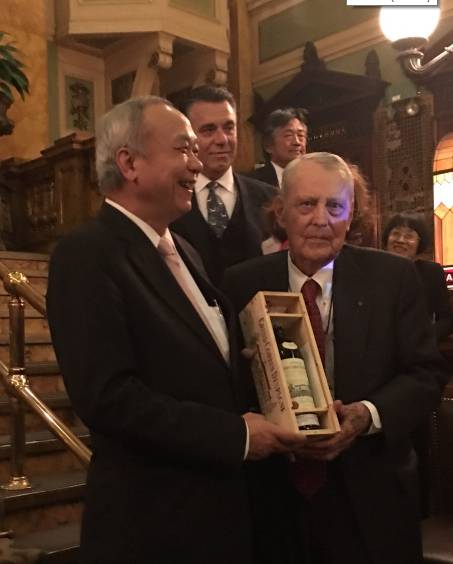 Presenting the precious and thoughtful birthday gift: Protege to Mentor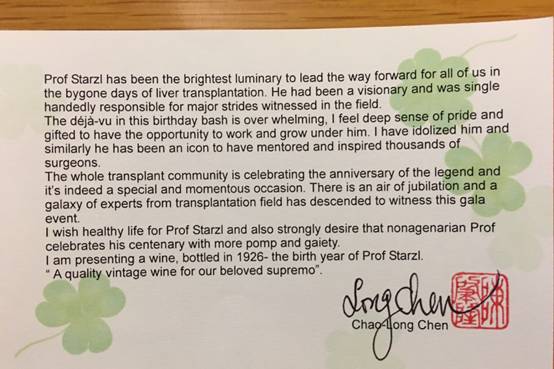 名師出高徒: Dr. Thomas Starzl and Dr. Chao-Long Chen 陳肇隆醫師
Dr. Starzl moved to the University of Pittsburgh in 1981 and the ensuing ten years was his most active
period of doing transplant surgeries in a furious pace; more than a dozen a week or more than 600
cases a year. It was at this time that Dr. Chao-Long Chen came to train with Dr. Starzl. Dr. Goran
Klintmalm, head of the Baylor Regional Transplant Institute in Texas, once said Dr. Starzl "had an
extraordinary ability to spot talent, and if you didn't have that talent, you were out." If one didn't have
what it took, one couldn't survive the training. It must be a gratifying and hilarious feeling to have Dr.
Starzl as a mentor.
Dr. Starzl and Dr. Chen is the best example of 名師出高徒. After graduating from Kaohsiung Medical
University, Dr. Chen had his surgical training at Chang Gung Memorial Hospital in Taiwan and the
Hospital for Sick Children in Toronto, Canada. He then trained in liver transplantation with Dr. Starzl
at the University of Pittsburgh in 1983.
Accomplishments and awards
Dr. Chen performed the first successful liver transplant in Asia in 1984 and has since done more than
1,500 cases. He did the first split liver (one donor liver to two recipients, such as larger right lobe to
adult and smaller left lobe to child) transplantation in Asia in 1997 and performed the first pediatric
living donor liver transplantation in 1994 and the first adult living donor liver transplantation in 1999 in
Taiwan. He has been the foremost in many surgical innovations of liver transplantation in Asia; he
performed the first dual graft (such as two adult smaller left lobes to one recipient) living donor liver
transplantation in 2002, and the first segment 2 monosegment (I believe this applies to small infant
recipient) living donor liver transplantation in 2013 in Taiwan. Dr. Chen indeed is the father of liver.
transplant in Asia; Dr. Starzl of Taiwan/Asia.
Dr. Chen has published more than 440 SCI-cited scientific articles, has lectured in more than 280
international congresses, and has received several honorary and visiting professorships. He is an
associate editor of the American Journal of Transplantation and serves on the editorial board of
several journals, including Annals of Surgery, Transplantation and Liver Transplantation.
He was appointed as Superintendent of the Kaohsiung Chang Gung Memorial Hospital in 2003 and
became Superintendent Emeritus in October 2015. The list of his awards and accomplishments is as
long as your arm.
It is no surprise that Dr. Chen was recently appointed to the prestigious and influential Advisory Board
of Center for Asia Pacific Policy. He is one of the two from Taiwan to join this USA based institute.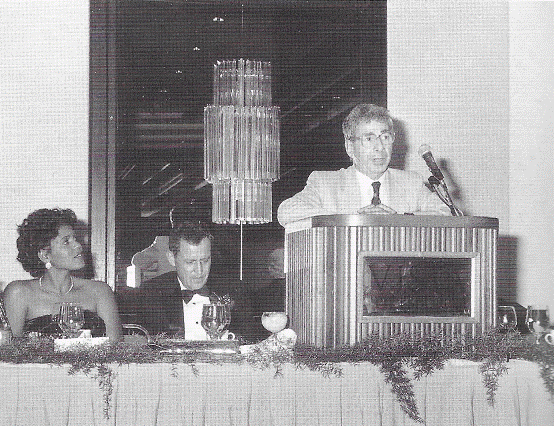 Joy Starzl (wife of Dr. Starzl), Dr. Starzl and Dr. Roy Calne (speaker) in Pittsburgh

Dr. Starzl "had an extraordinary ability to spot talent," whether it is a surgical scalpel or a
kitchen knife
Dr. Chen reminisced an unforgettable event when he was trained with Dr. Starzl in 1983. One day Dr.
Starzl asked him to cook for a birthday party for his wife, Joy, saying several friends will come; the
number increased to "may be 25 people", and a day before the birthday, Dr. Starzl announced there
will be 100 people more or less. Dr. Chen hurried to Shiow-bih's (Dr. Chen's medical school
classmate) home to grab every pot and pan. The party was a great success. Dr. Chen (then not
married yet) said his wife never believed he could cook for more than 100 people.
As I said earlier that Dr. Starzl "had an extraordinary ability to spot talent," whether it is a surgical
scalpel or a kitchen knife. It might have become a "folklore" among international transplant
community, as Dr. Barry Kahan, Professor and Director of Immunology and Organ Transplantation at
the University of Texas Medical School at Houston, asked Dr. Chen when he visited Taipei in 1990
whether he knows who was that famous "master cook".
The photo below shows Dr. Starzl apparently still had fond memory of the event when he autographed
his Memoirs of A Transplant Surgeon (The Puzzle People) to Dr. Chen twenty some years ago.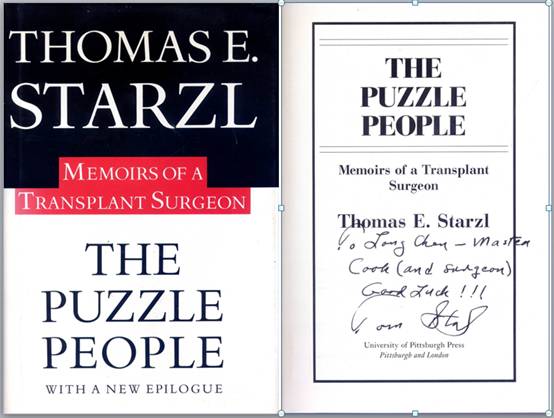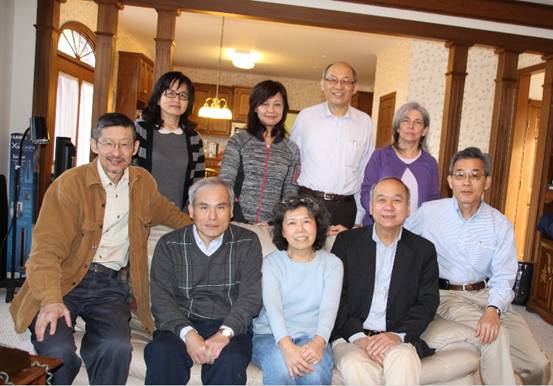 Dr. Chao-Long Chen and his medical school classmates

The pleasant unexpected side trip
Thanks to Shiow-Bih's (秀碧) kind and considerate arrangement, Dr. Chen was able to meet with
several of his classmates (林琪雄醫師, 王明仁醫師 and 廖泓淼醫師) coming from New Jersey, Toronto
and Washington D.C., reminiscing good old medical school days. Dr. Chen also met some of the
people he made friends with when he was in Pittsburgh in 1983. He was grateful that 黃呈昌夫婦 were
able to drive him around to Phipps Conservatory and Botanical Gardens, Senator John Heinz History
Center and Thomas E. Starzl Transplant Institute during his spare time before the fellow reunion.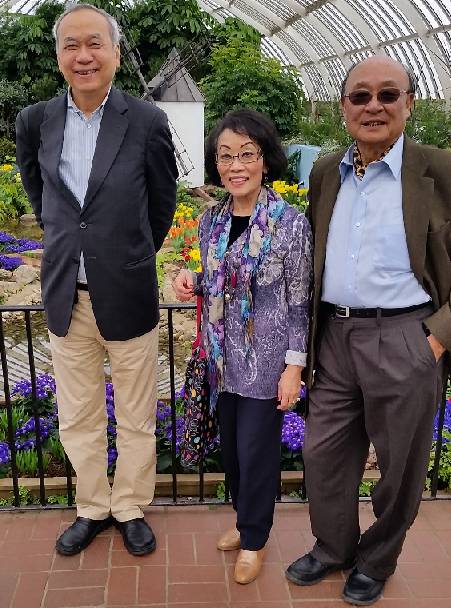 陳肇隆醫師 黃呈昌夫婦

能者多勞 前人種樹, 後人乘涼, 為後人造福
Burdened with the administrative work of the superintendent of a 2,745-bedded hospital managing the
affairs of a very busy liver transplant program, Dr. Chen has been abroad more than twenty times a
year, with the purpose of giving lectures, surgical demonstrations and help establishing liver
transplant programs across Asia and Central and South America, or receiving medals, award and
honorary doctorate. Despite such a busy schedule he still managed to plant more than 5,000 of the
9,000 trees around his hospital.
The Chinese idiom of 前人種樹, 後人乘涼 means planting trees is to benefit the generations to come.
Being a pioneer of liver transplant in Asia and training so many surgeons, Dr. Chen is also "planting
trees" as a transplant surgeon, not only benefitting his patients, but also elevates and advances the
level of care in his hospital in years to come.

創造1400個重生奇蹟 : 新肝情願 2
It is very kind of Dr. Chen to give me his autographed book (創造1400個重生奇蹟 : 新肝情願 2),
unfortunately, we're in a hurry to leave and the book was left behind at Shiow-Bih's house, otherwise I
would have more story to tell about the father of liver transplant in Taiwan/Asia. Now I have more
incentive to visit Rong-Chung and Shiow-Bih soon again to get the book,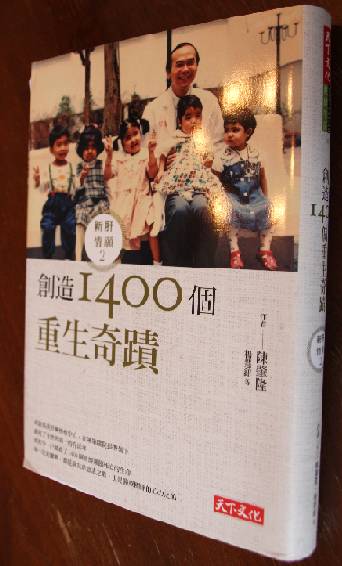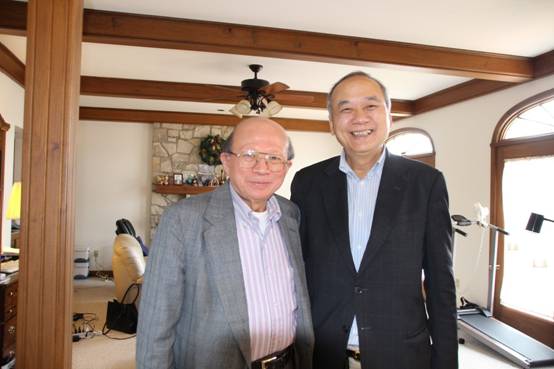 Dr. Tsai Dr. Chen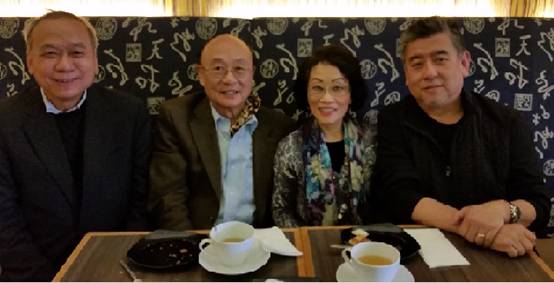 陳肇隆醫師 黃呈昌夫婦 陳飛